Miller & Carter has been one of my favourite places to eat for years now, and special occasions pretty much always involve a visit to one of their restaurants – so it's a real pleasure to be teaming up with them for this post. Last weekend, a group of us went to check out the Langdon Hills location, which opened back in March this year.

The menu has had a bit of an overhaul in recent months, with a plethora of new starters. All sounded equally delicious, but my boyfriend and I played it safe with the bread board platter – served warm with pesto, olive oil & balsamic, smoked beef dripping butter and marinated olives- to not fill ourselves up too much. Others went for calamari, scallops, pulled brisket croquettes (yep, totally regret not ordering those too).

A massive portion of the menu is dedicated to the 'steak experience' – simply pick your cut and cooking preference, followed by your choice of accompanying steak sauce and dressing for your lettuce wedge. All steaks are served with seasoned fries and the genius creation that is onion loaf (the BEST! I could very easily eat this every day for the rest of my earth-dwelling existence and not get bored). You also get a balsamic glazed tomato, because balance.

Miller & Carter have plenty of other options on the menu alongside their impressive steak selection – burgers & other grilled meats, fish, poultry and veggie dishes aplenty. But if you're gonna go to a steakhouse..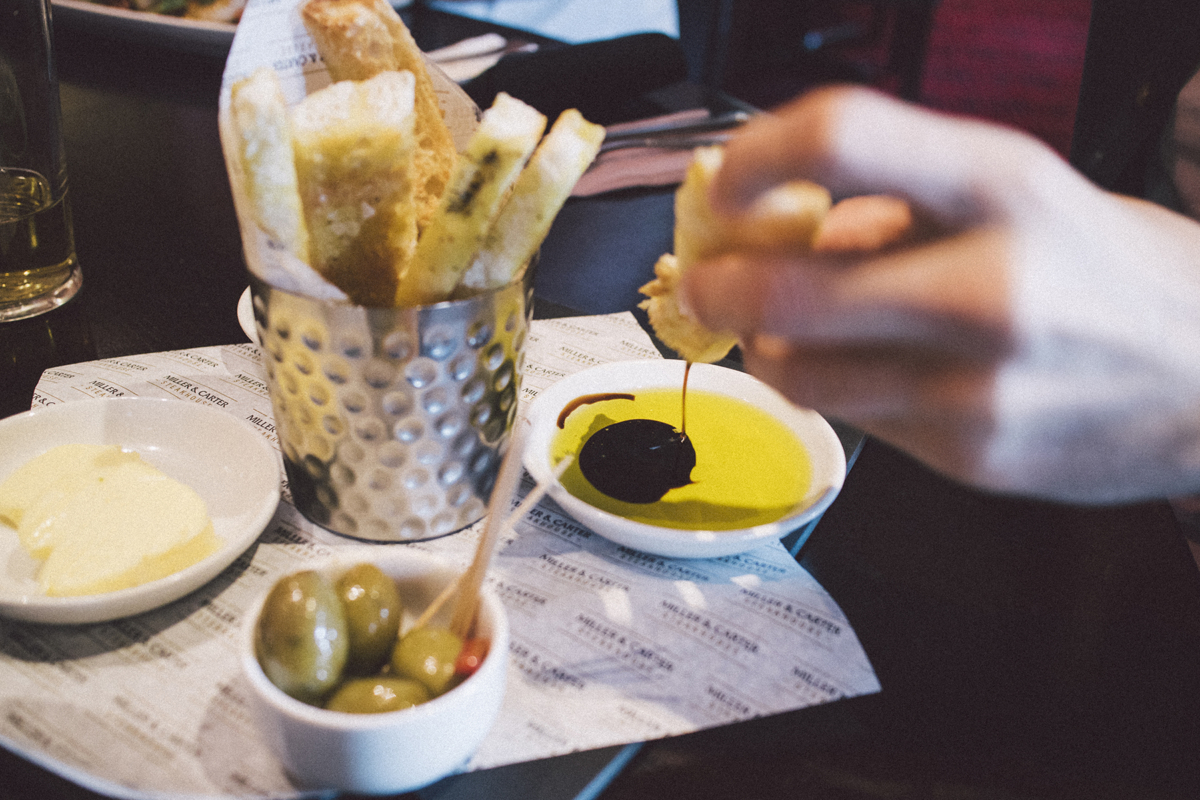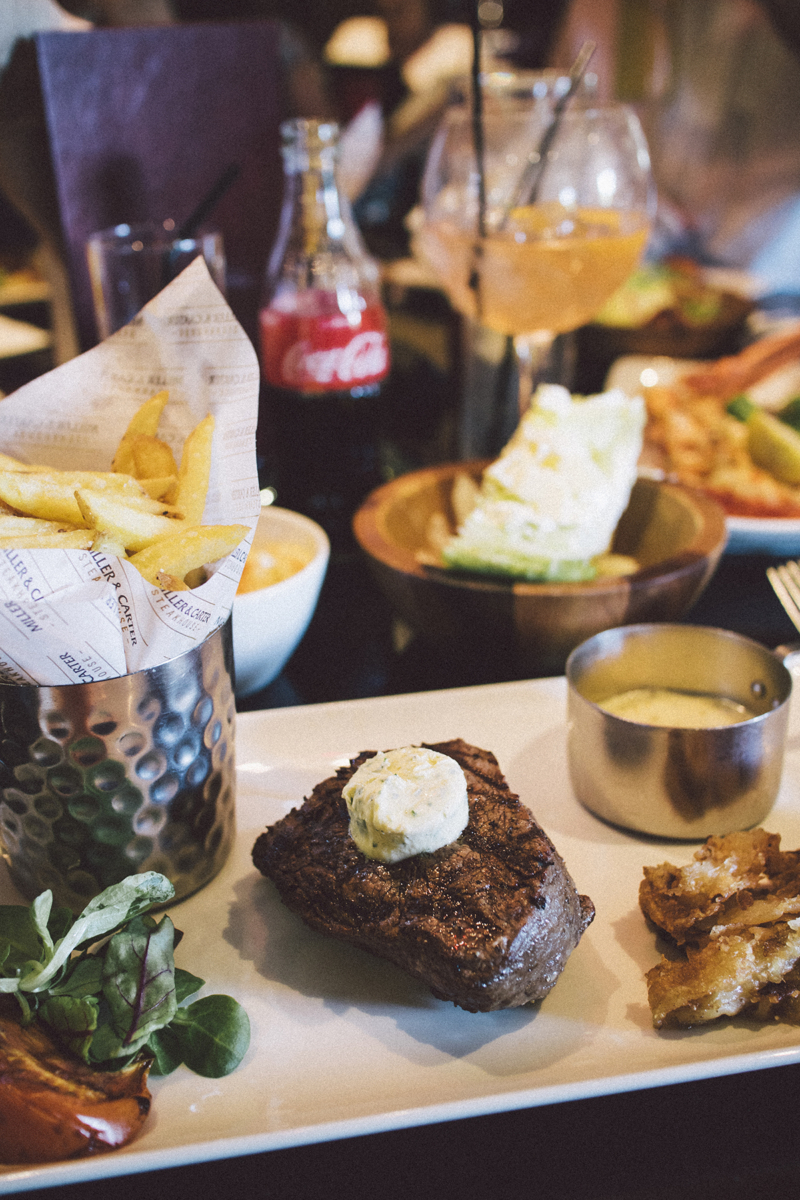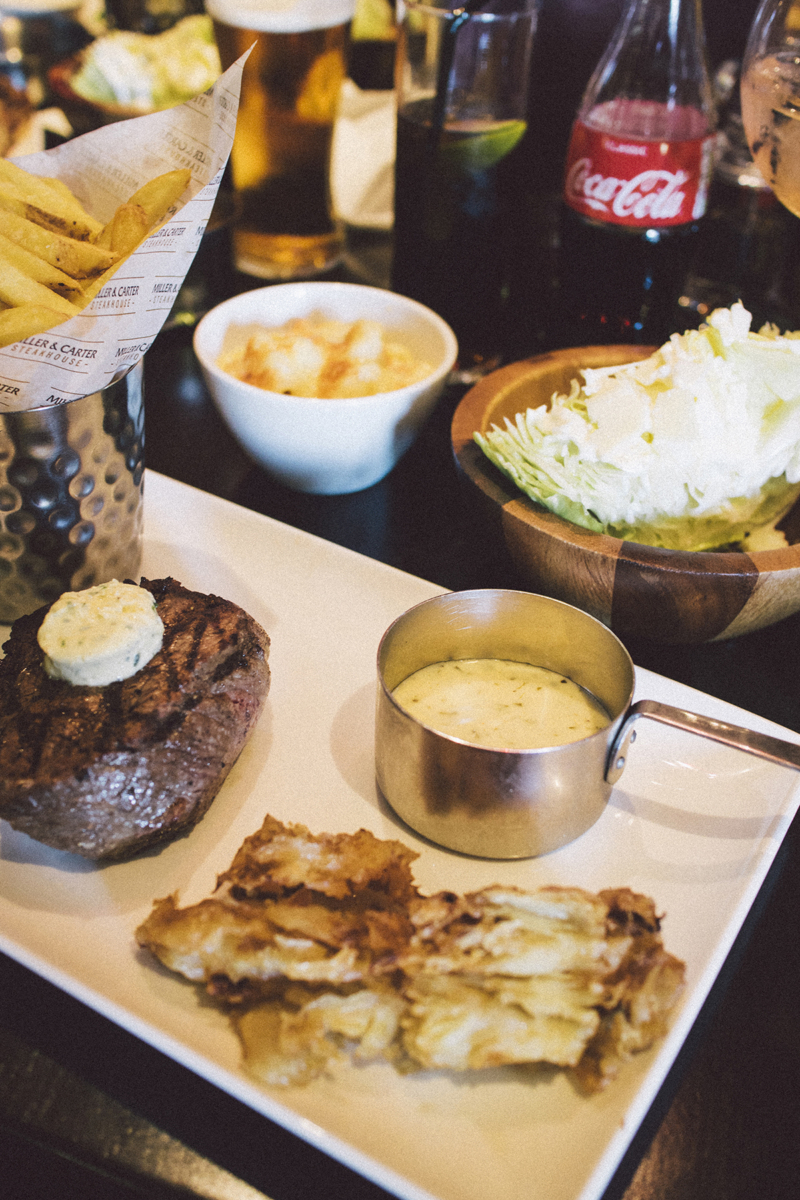 A few of us went for the bistro rump, which we discovered a few months back and it was AMAZING. I'd wholeheartedly recommend this cut, even over a fillet as it's comparable in terms of looks and flavour, yet works out better value. Honestly, it is insane and you have to go try it. I had Béarnaise with mine (standard), along with garlic mayonnaise & parmesan for my lettuce wedge. Side note: doesn't 'lettuce wedge' sound just so more exciting than a salad?
Obviously this was an adequate amount of food, but the sides aren't be sniffed at; I pretty much always have to order the lobster mac & cheese, and this time was no different. Others went for the grilled half lobster and the tempura battered soft shell crab (I had a bite of the latter and got instant envy).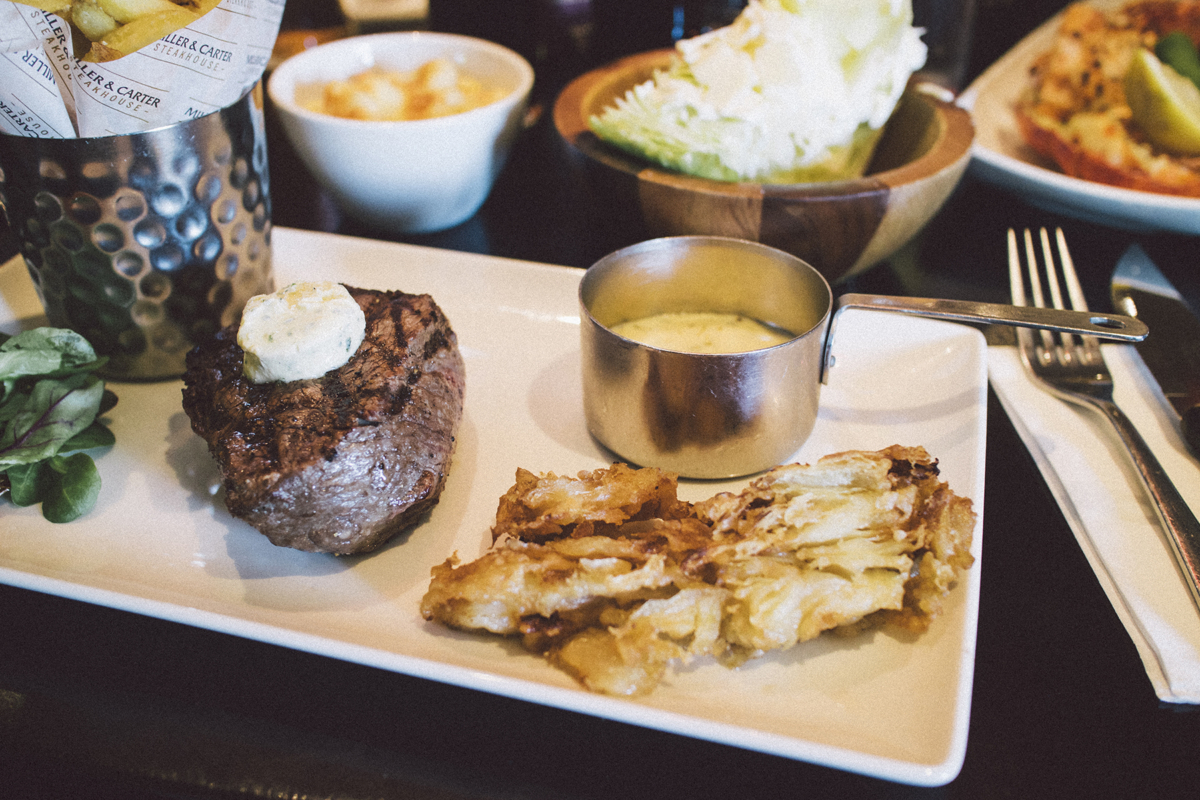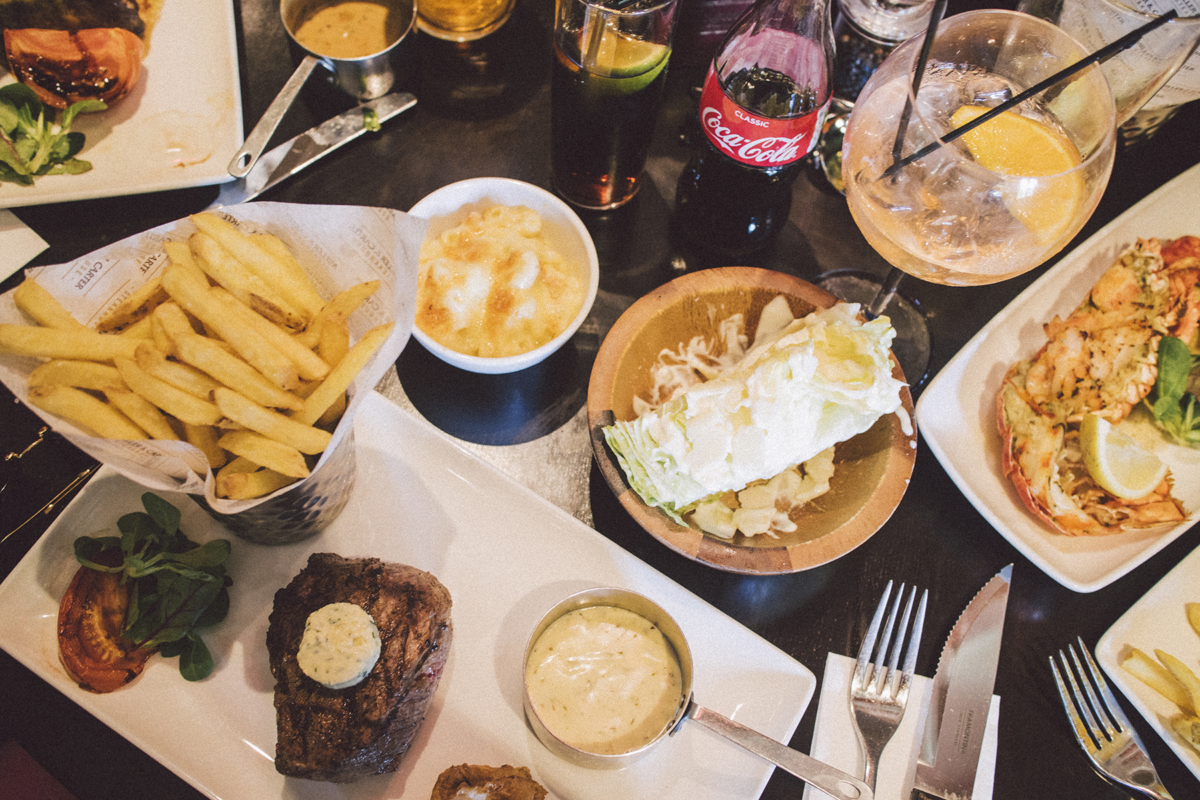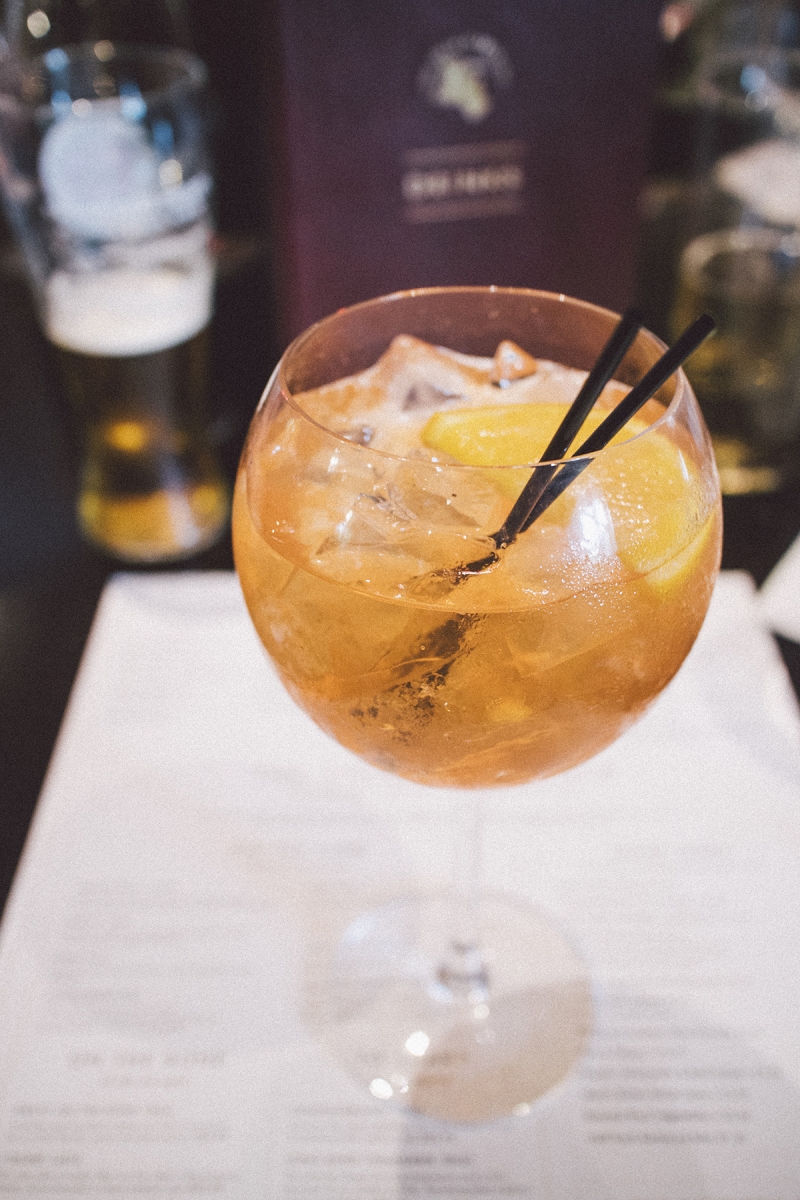 Somehow there was still room for dessert after the feast, and I'm still thinking about that brownie – served warm with vanilla bean ice cream and Belgian chocolate sauce – right now. And maybe an Aperol Spritz. If you're not feeling quite so ambitious, the mini dessert is a safe bet – either a rich chocolate pot or raspberry crème brûlée, with freshly brewed coffee or tea.
All in all, a lovely experience. We were brainstorming excuses for our next visit while we were still at the table!