My boyfriend and I made a little pact back in January. No holidays (after a grand total of four pretty spontaneous trips last year) in order to save up for a house. Then the opportunity arose to take a little staycation this month, which is totally allowed because you can jump in the car and be on the beach within a couple of hours – no airport required!

I've teamed up with Matalan to showcase my favourite pieces from their summer collection – perfect for a city break in the UK. Wanting to visit somewhere new, we decided on St. Margaret's at Cliffe, a sleepy seaside village nestled between Dover and Deal.

The first day was a fairly British affair – deceptively sunny (read: windy as hell) and began with a trek down the hundred or so steps to Shakespeare Beach. A favourite amongst long distance swimmers – it's the shortest distance between the UK and France – and a dog-friendly seaside spot, so perfect for the pooch. There's nothing quite like rolling on shingle for this little guy – it took him all of two seconds to get stuck in!

For our seaside stroll, I wore this beautifully detailed embroidered blouse – that combination of white & blue gets me every time! I'm so glad I discovered these super skinny ankle grazer jeans; I have short legs by anyone's standards and usually find myself having to roll up the bottoms on all my denim, but the length of these is absolutely perfect for me! I love the little frayed hem, and they truly go with everything. For shoes, I picked the super comfortable ghillie lace up sandals in red (also available in black), which paired perfectly with this suedette cross body – small, yet roomy enough for all the essentials!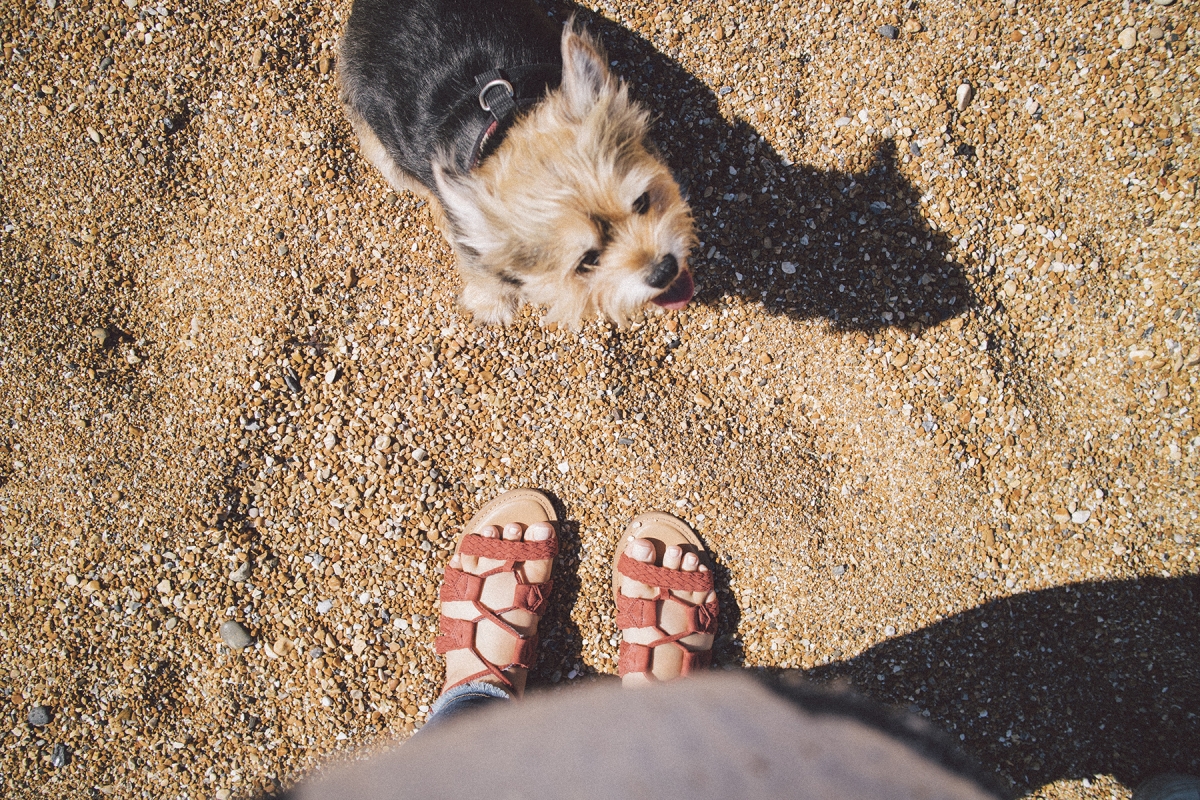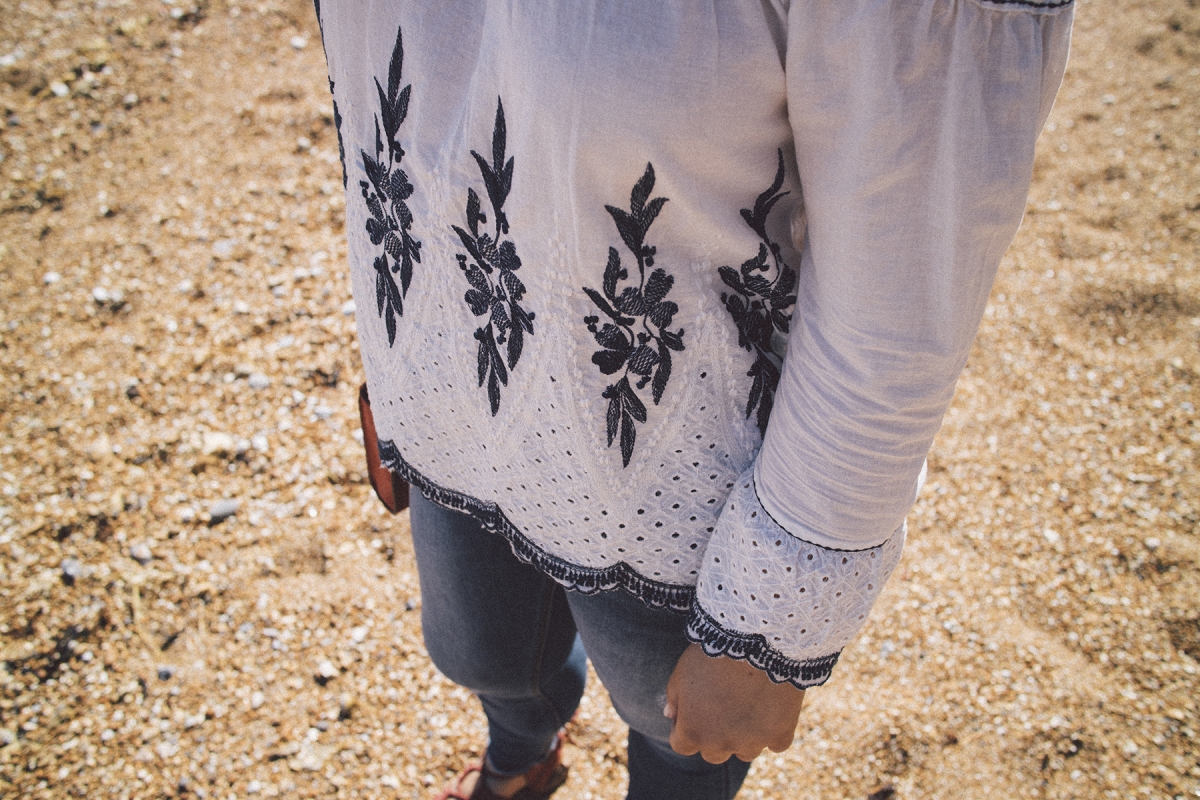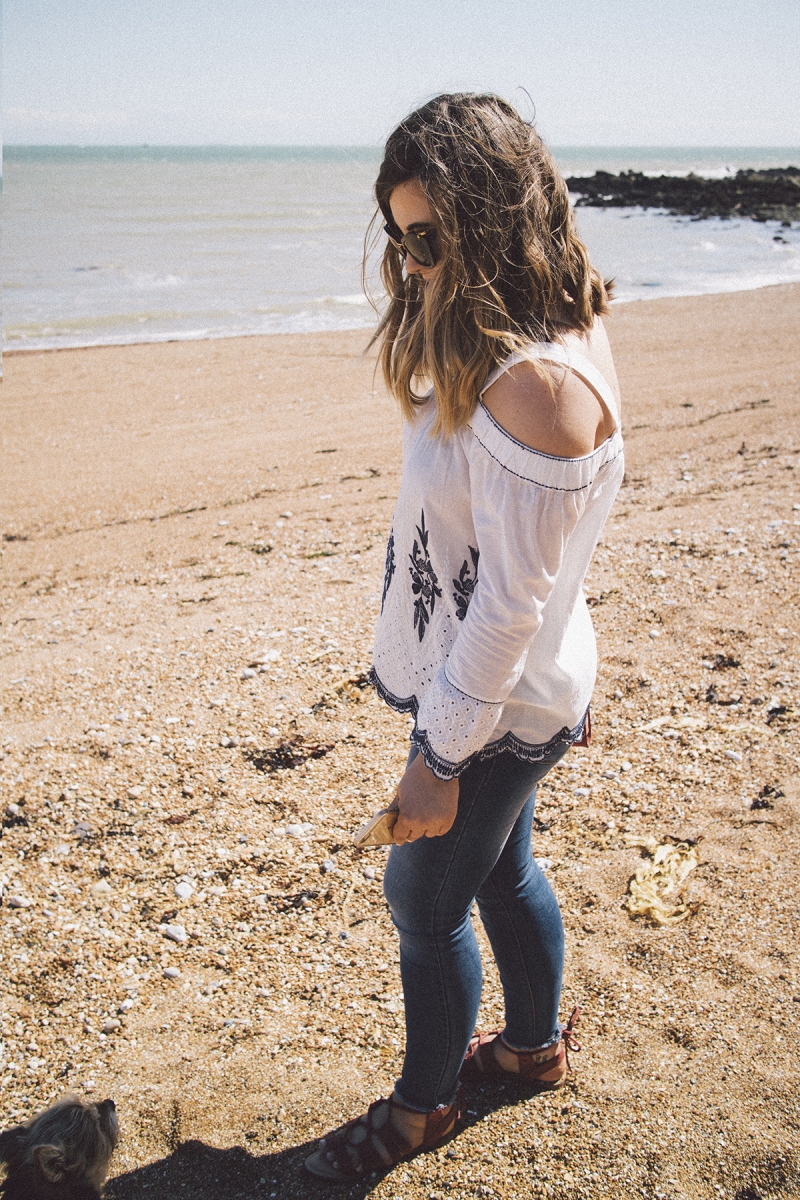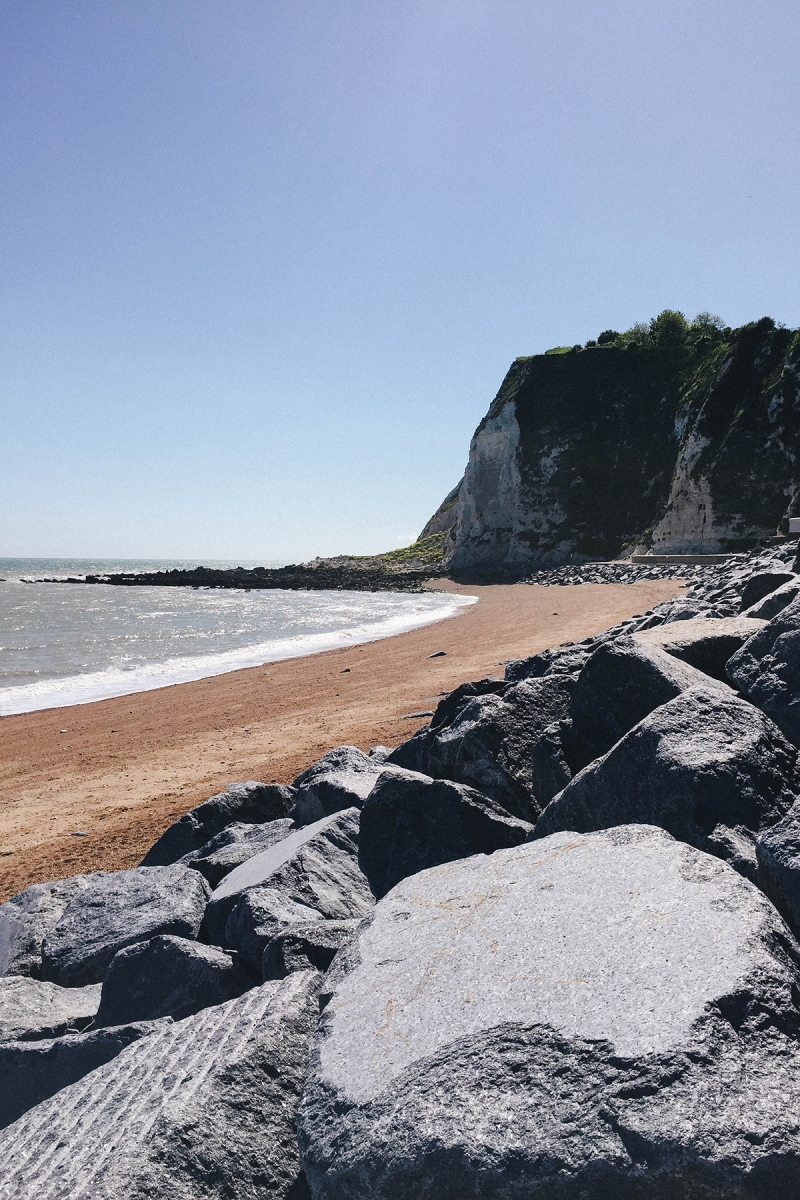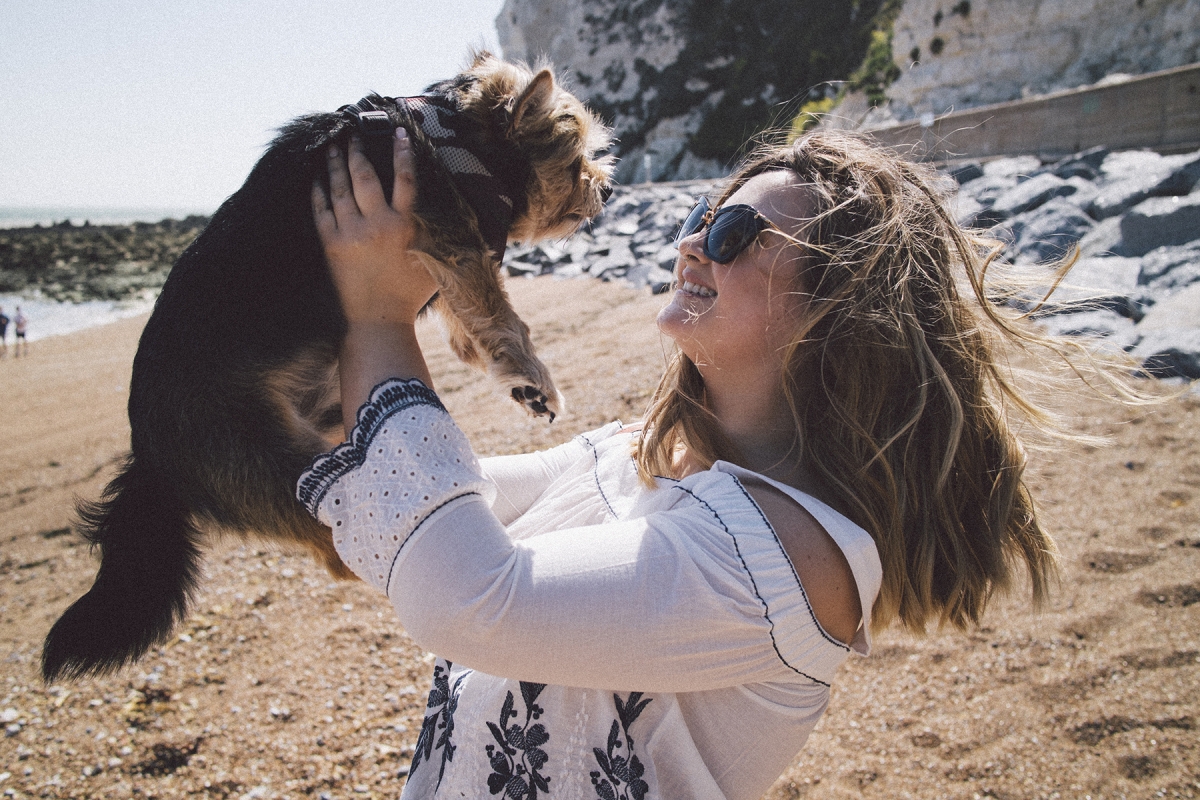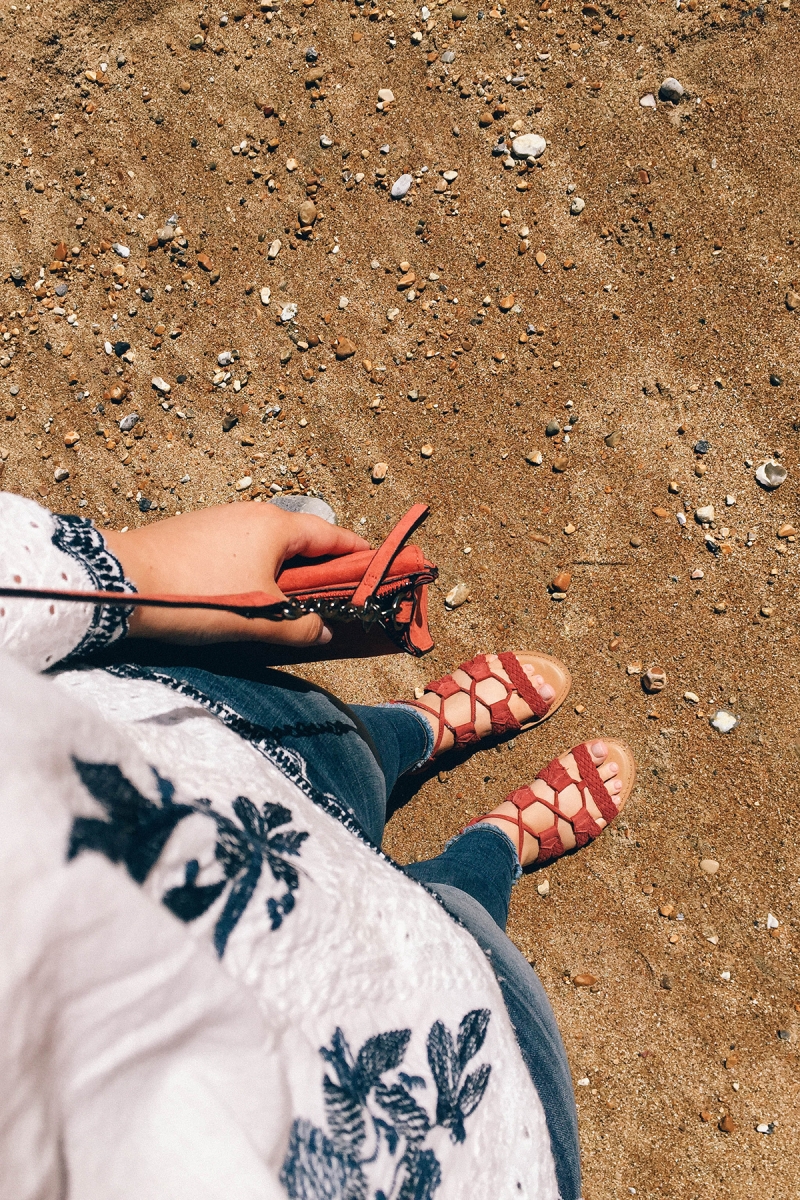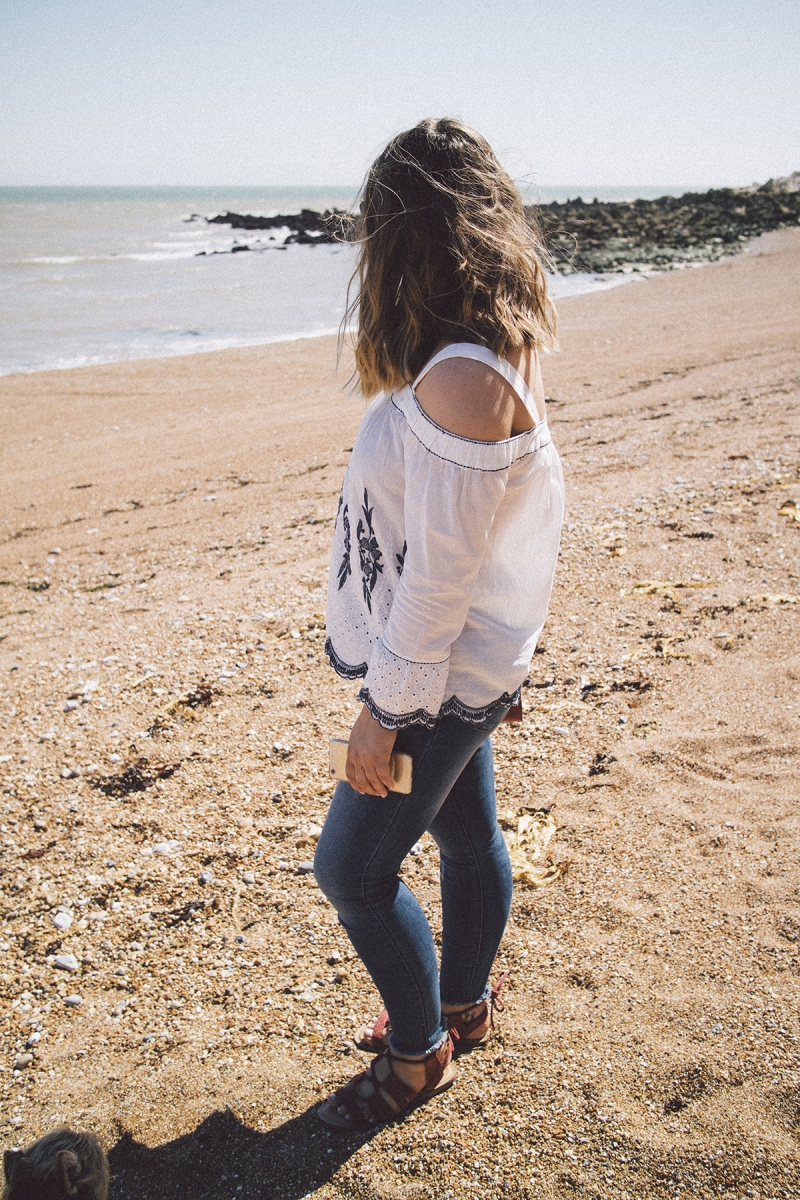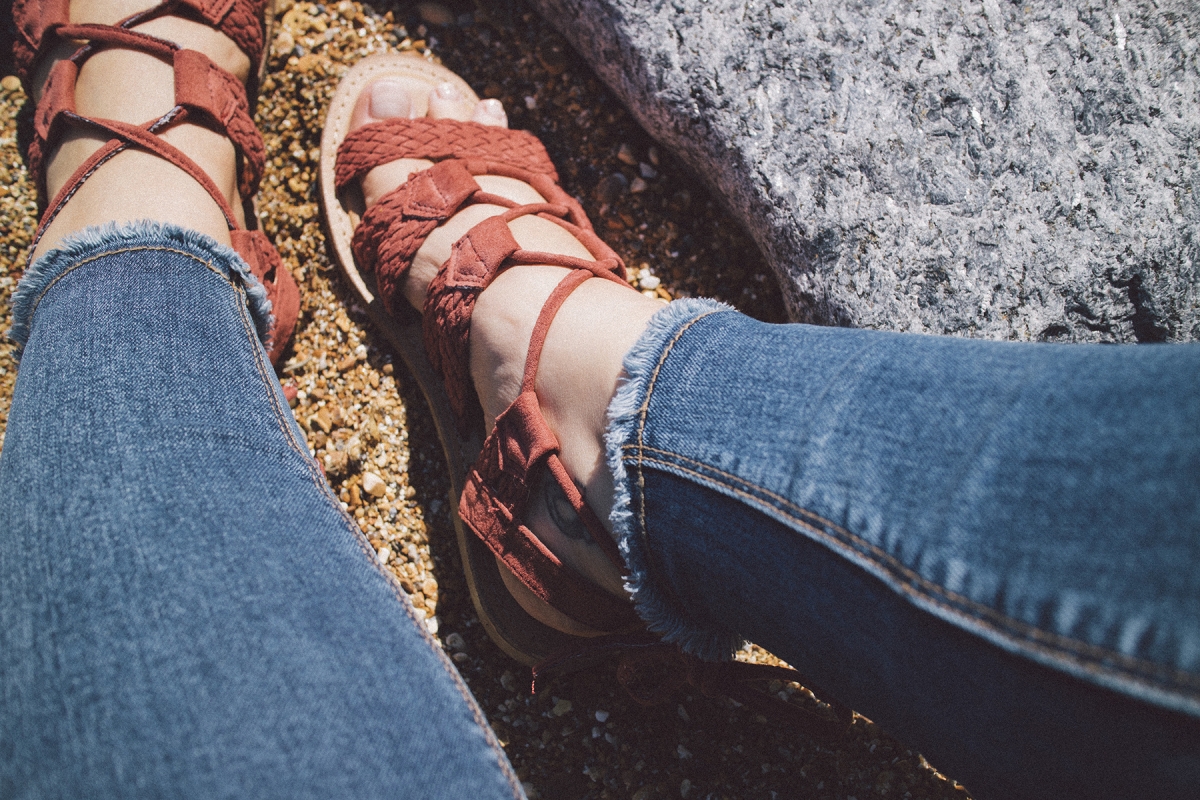 By the time evening rolled around we were in serious need of comfort food from all the exploring, so we headed out for pizza. Not wanting to take my beloved jeans off, instead I switched things up with this long sleeve shirt and pale grey mule loafers. After having managed to resist the backless loafer trend for so long, I am digging these in a big way and feel a bit silly for avoiding them for months.
As the temperature dropped I needed an extra layer, and this pink suedette biker jacket of dreams fit the bill perfectly (seriously.. can't get enough of that millenial pink guys). I wasn't 100% on the contrasting lengths of the shirt and jacket at first, but I think it works!
If you're a fan of the Chloe Faye, but y'know, still want to eat real food – you may be very interested in this cross body bag. I love the mix of (faux) leather and suede, and the gold tones warm everything up nicely. A lot of dupes I can take or leave, but would highly recommend this if you're after a new accessory.
The sofa in our Airbnb was so comfortable that we were nodding off way earlier than expected – the sign of a well-spent day!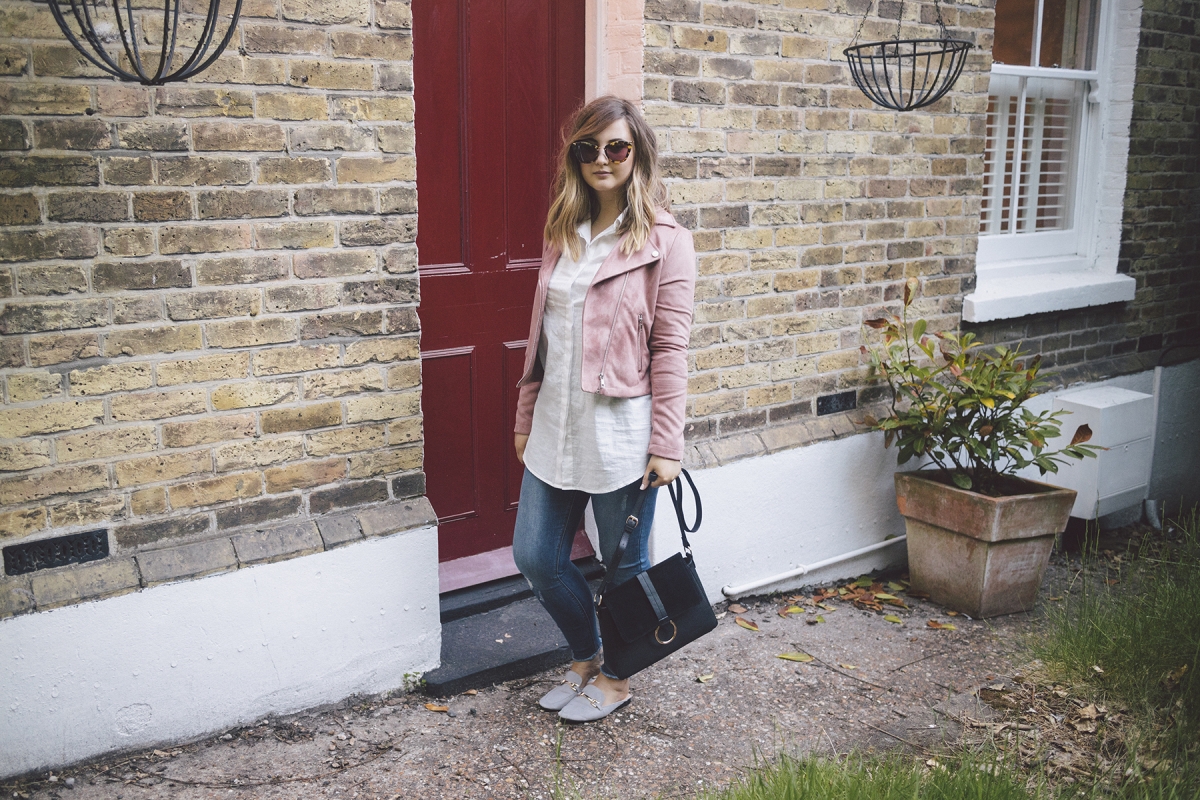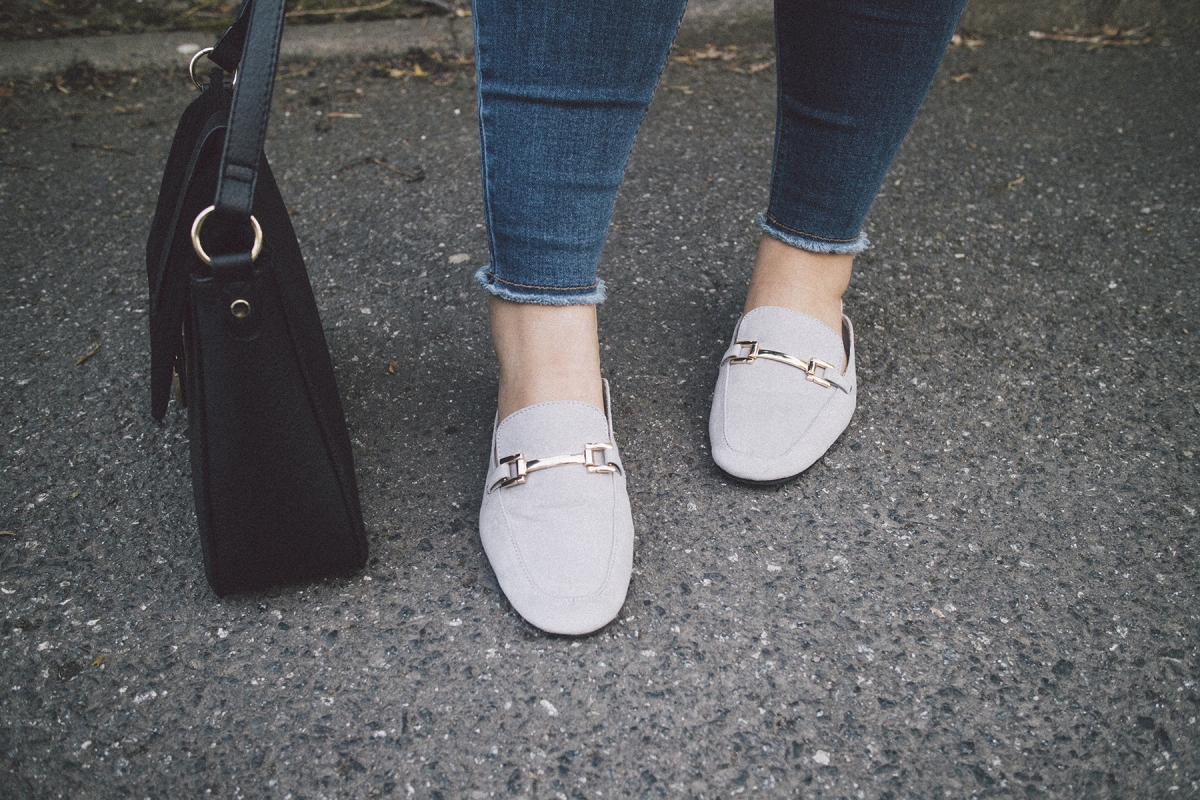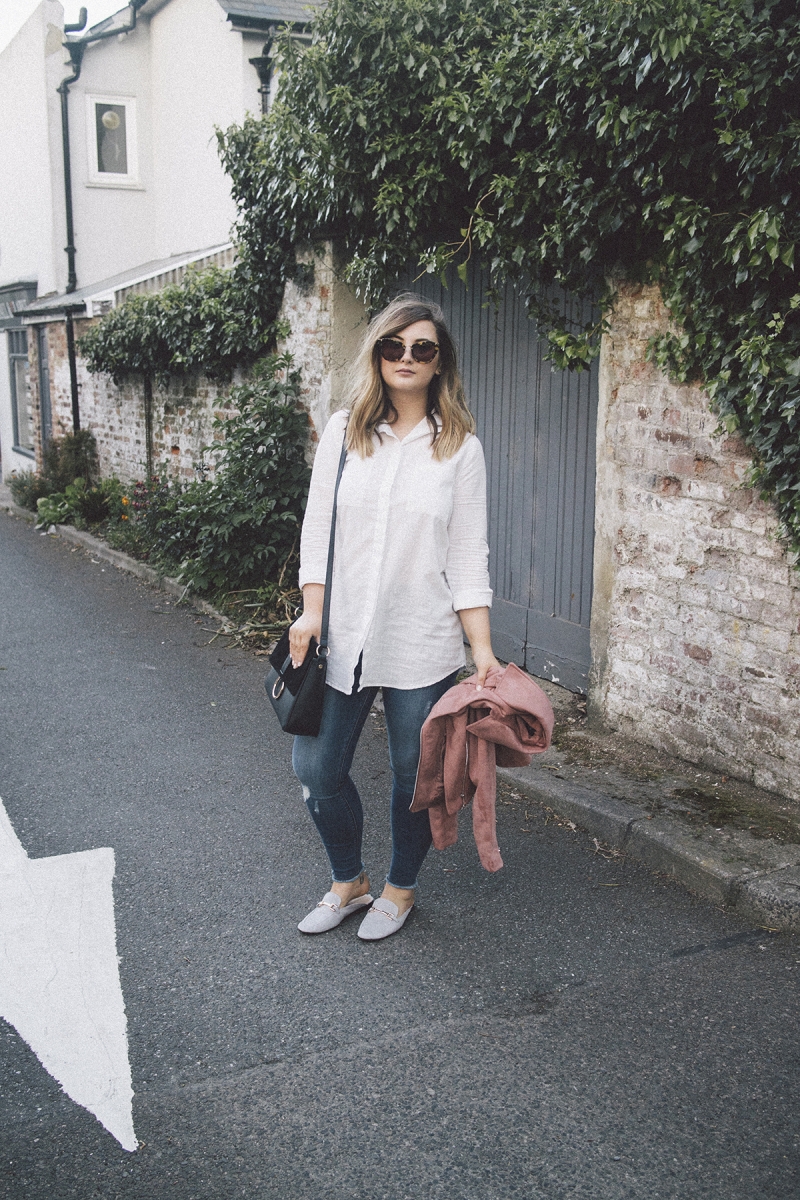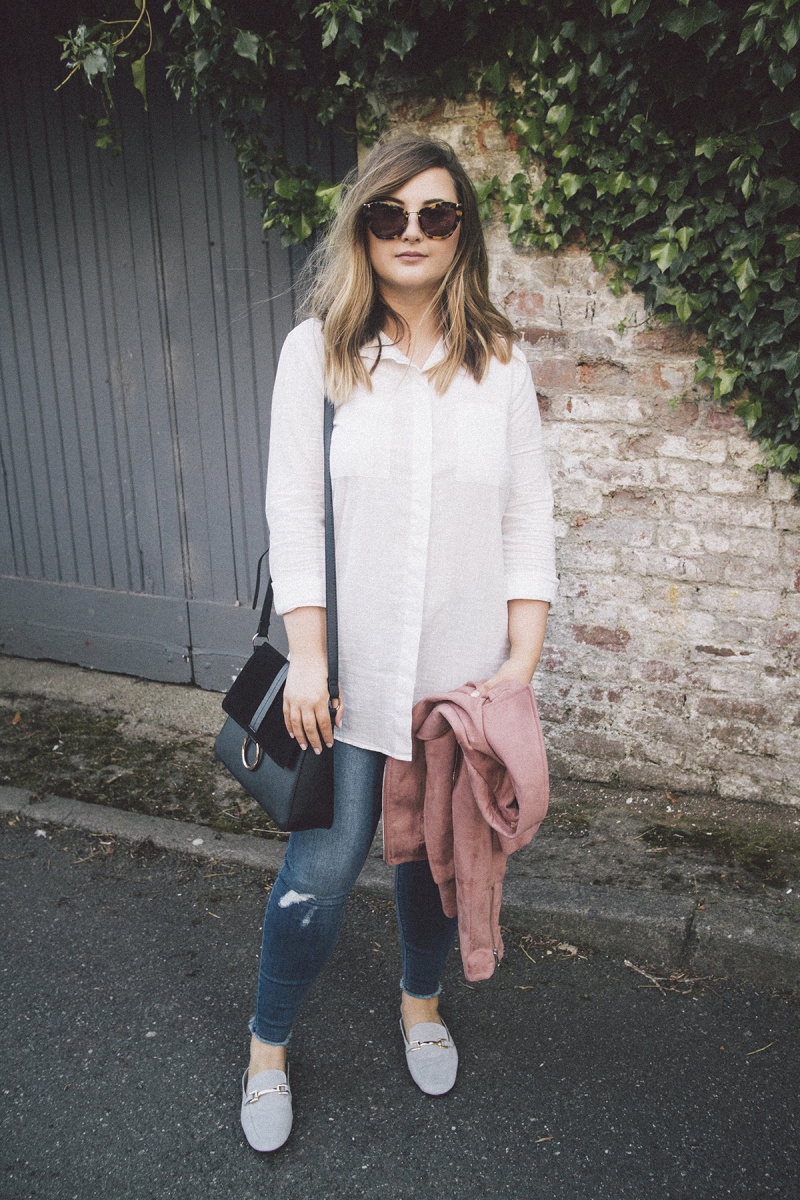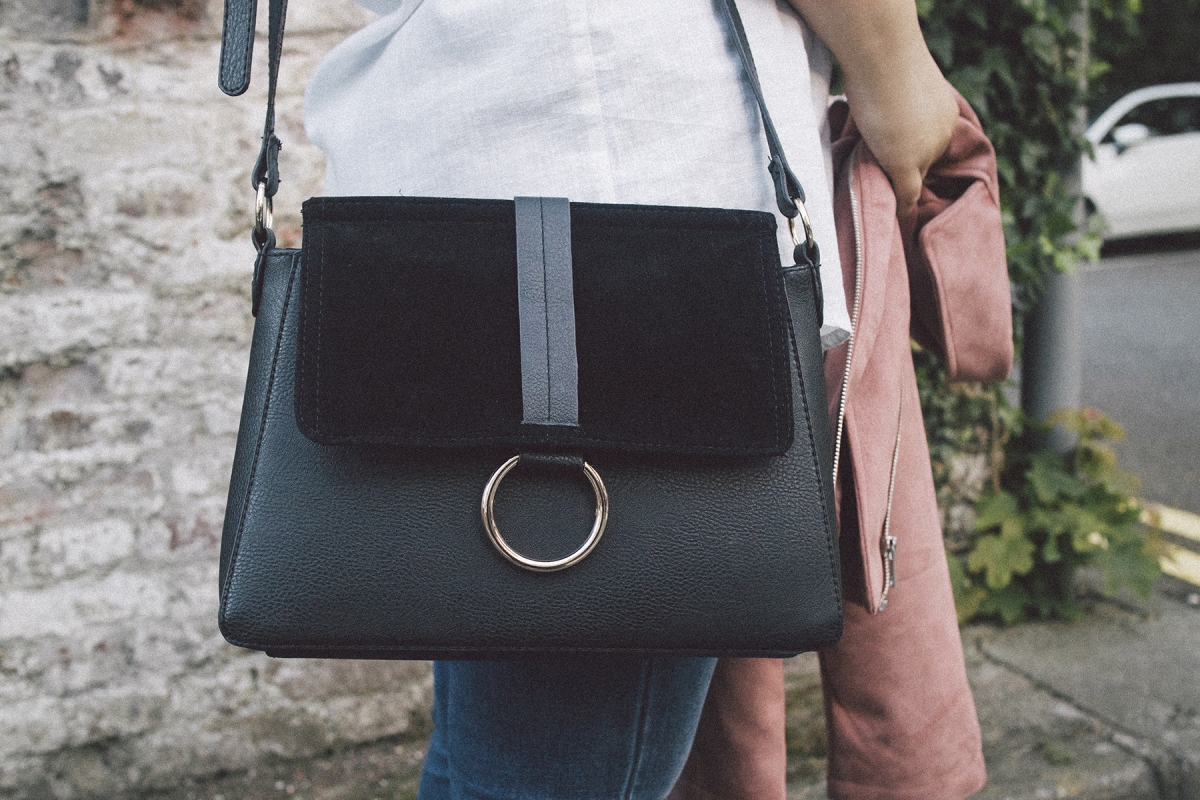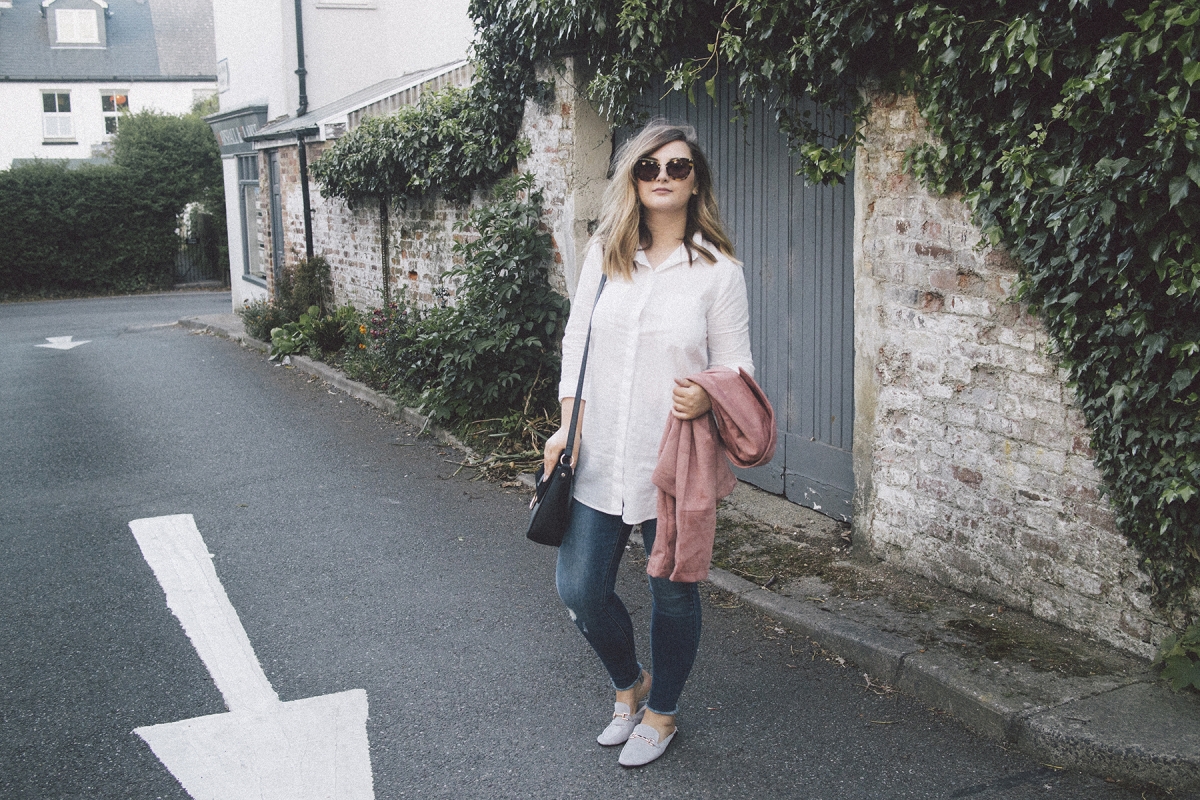 Up bright and early on the Sunday, we filled our bellies with eggs, bacon, toast and coffee (perfect weekend morning ingredients) before packing our bags and heading out to Deal for an afternoon of more gallivanting and more eating – chips covered in salt & vinegar, straight out of the bag, soft-serve ice cream.. the stuff dreams are made of. Beigel was a big fan of the fancypants strawberry ice cream – if you couldn't tell.

I absolutely made the right choice of saving my botanical floral print blouse and trouser combo for the occasion. I'm a jeans girl, but also totally into the idea of being able to leave the house in what are, essentially, super fancy pyjamas. You can tuck the shirt into the bottoms for a faux-jumpsuit effect – it looks great like this, but stupidly I didn't try it till later on – or wear like I have for peak comfort. This would be absolutely perfect for flying or any form of long-distance travel; it's dressy enough but as unrestrictive as a tracksuit. Lovely. I paired the navy two-piece with those lovely grey mule loafers again because I'm a creature of habit. So good!

There was enough going on with the rest of the outfit to just go with a plain bag, and this simple black tote was great for an everything-but-the-kitchen-sink approach. Especially handy for days when you need easy access to baby wipes, sun cream, dog leads and all that sensible stuff. The detachable pouch is great for valuables – loose change, debit cards, lipstick (delete as appropriate).

I had so much fun finding my new summer favourites with Matalan, and we really lucked out on the weather front!

What do you think of my picks?